Mi Launcher v3.8.0 (MiHome)
Requirements: 2.3 and up
Overview: The MiHome 2.5.1 official version, created by Xiaomi Corporation, now fully supports Android 2.3 and above versions
MiHome can be utilized in all Android devices. It transforms any Android device into what a Xiaomi phone would be – beautiful and easy to use, which is what defines Xiaomi's MIUI operating system. The MiHome established nearly 3 years ago has been based upon a simple interface, continuous enhancements and our millions of user experience. You can now try it for free!
Key features:
- Fast and stable: Let's your phone run as efficiently as possible.
- Simple and easy to use: The desktop grid-like layout makes it easy to manage your apps
- Sleek and beautiful design: HD custom icons, variety of lockscreens and a MiSpace feature that is unlike any other user interface.
- Personalized themes: Choose from thousands of free themes, wallpapers, ringtones created from top designers.
- Useful functions: a one click cache clean up key, features that allow you to manage your phone contacts easily and a toggle panel that allows you to efficiently switch on or off commonly used functions.
More details:
- Official website: http://app.miui.com
- Official forum: http://en.miui.com/forum.php
What's New;
1.Optimization vivo phone status bar transparent;
2.More models optimized adaptation desktop layout;
3.Repair sporadic weather not refresh;
4.Repair switch layouts cause widget missing;
5.Browser repair the dock adapter;
6.Fix occasional desktop icon and dock icon will be lost when the exchange;
7.Repair part on data models shortcut button switch failure;
8.Repair click the shortcut directly call display "can not find a program to open the attachment."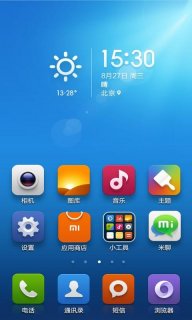 Required Android: 2.3+ & File Size 7 MB
Google
Play
Download Mi Launcher v3.8.0 (MiHome)
Apk